Entrepreneurship is an age-old concept in India. Right from our great grandfathers' days, small business owners are successful in starting and establishing their business. Also, these business owners have a practice of selling things on keeping accounts for their customers. This means they don't demand money immediately but will make a note in a small book and provide items to the buyers. This concept has grown big and now people buy things in easy monthly instalment. However, small business owners still exist and encourage their customers to buy things and pay money.
What is Khata (accounting) Book?
That small book that they use to manage the account of their customers pending money is called the udhar book. Udhaar means to borrow. The details of the customer and the amount they borrowed are noted in this book. The amount they borrow here is not money but things like groceries, vegetables, household items like vessels, etc. Every shop keeper maintains this red book and gives things as advance.
What is Digital Khata?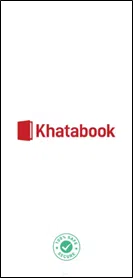 Digitization is the buzz word now. With the arrival of computers, followed by the internet the very word Digital became popular. Now, with smartphones and data making things Digital has become so easy and affordable too.
The very purpose of digitization is to make lives easy by doing away with manual works and automating things. Yes, storing data in books has become obsolete and all data is stored in computers. Even you can get books online called digital books where you can read, just using your phone.
Now, similarly, digital khata is the accounting book that is available digitally letting businesses store information online and not in any physical books. Khata means accounting, hence understand digital khata as digital accounting.
Top 5 Reasons That Urge Every Small Business To Use A Digital Khata
Small business owners do make huge profits when they can retain their customers. These businesses run on a trust basis and hence they need to provide things maintaining a credit account. Not all buyers in both rural and urban areas can buy things paying money instantaneously. The labourers who work for daily wages need this comfort of getting things instantly and making payment later. Small business owners are aware that they need to sell things in a credit account. Therefore, digital khata offers the following benefits to the small business owners to make their business a profitable one.
#1. Simplified System
There is no need to know accounting as this app will do all the math and calculations. All you need to do is to enter the details of the transactions. Even that is easy as you can pull the contact details of the customer from your phone contact. Find the image below that shows how easy it is to get the details on your phone.
Then you can edit the details of the customer and keep on adding the transaction information. You can send reminders to the customer and once the payment is done you can delete the old transactions as well. Therefore the system is very simple and the only requirement is to have an Android phone version 5.0 and up, to handle your business transaction at your fingertip.
#2. Ease of Access To Data
As mentioned above once the customer detail is added from the contact you can access any data easily and at any time. It is possible for sharing the bill online and you can now do away with the bill book as well. Add the payment link and share it via Whatsapp for reminding the customer. Data backup is possible and can be restored at a time. Include credit and debit details as and when the payment gets cleared from the customer. There is no need to turn pages to check for the data but it is now possible in just one click.
#3. Data Security
Coming to data security, many customers might be skeptical to share their contact details. But you can assure them that all the details are locked with the help of the app lock feature. Unlike a manual khata book is prone to theft, loss of data by damage, etc, Digital khata is safe, secure, and simple. Any number of transactions can be saved and reviewed maintaining confidentiality.
#4. Cost-effective
It is absolutely a free digital cash book that you can carry in your pocket to all places you move around. There is no need to hire an accountant to tally the financial transactions and that is another cost-saving feature that saves you from calculation hassles as well. The inbuilt program will tally your account and transaction with your customers. Even your customer receives a free Whatsapp update regarding their transaction. It is possible to manage multiple shop business transactions in just one app. Also, the same digital khata book account can be used on different phones.
#5. Reliable and Scalable
Payment reminders can be set for each of the customers individually and hence there is no need to remember any old transactions. The app is highly reliable and it is scalable too with upcoming new features regularly. Personal accounts can be created for friends and family as well as individually.
Which Small Businesses Can Use Digital Khata?
Having seen so many benefits offered by digital khata every small business owner will be curious to download the app and use it to reap all the benefits in their business. The sky is the limit, so do not restrict from downloading this app and if you are dubious about whether this app is for you, then here you can find the list of businesses that can use this app.
Electronic shops including mobile recharging shops.
Grocery / Kirana stores
Bakery, juice seller, medical shops, vegetable shops, tea shops, etc
Jewellry or garment stores (irrespective of the size of the store)
Even if your shop name is missed in this article, never mind as to any business that is looking for a safe, secure, smooth transaction with customers maintaining the pending receivables in one click then go for digital khata and have a peaceful business model.
Final Takeaway
Not just small business owners are at the advantage of using the app, but the homemakers also can use this app to maintain the hisab-kitab of water can supplier, maid, paper wala, doodhwala, etc. Keep track of transactions not in your memory but your smartphone.