Starting a business not only requires money but innovative ideas and adaptability to the changes in the market which will help the business flourish. Several small business owners start a business and run it for a few days. But when it comes to managing finances they find it difficult as all are not good at accounting. Especially in small businesses, people tend to buy things and pay later. Such debit credit transactions involve more complications for the business owner to keep a note of the pending payment and collect them appropriately. This is additional to the regular accounting like inventory calculations, stock supply, infrastructure rent, etc.
The cash book, accounting book, ledger book are the names given to one book that is used by business owners to enter their daily finance transactions. This book is replaced by a mobile app called the Khatabook app. It provides relief to business owners by doing all accountings and manages the end to end cash transactions. There is not much technical knowledge required to use this app and just understanding how to use it will help every individual to enjoy all the features of it.
In the coming section, you will find details of all Khatabook features, how to enable them, and what the benefits it offers to businesses are.
Complete List of In-App Khatabook Features
#1. Adding A Customer
What – It is important to know the customer for business owners to start their transactions. This feature will allow the app users to include the customer details and it is a one-time task. Thereafter all payment details will be recorded in a personalized manner for each customer. This is similar to making an entry of each customer on an individual page of a manual accounting book.
How - First install the Khatabook app from Google Play store and you will be given an OTP as authentication. This is your ID which is editable based on your preference which you can find under adding multiple khata accounts. Now follow the steps to add customer
Click on Add customer
In the next page enter the customer name and click save
Then enter the customer phone number which is optional but it is good to save the number for making use of the SMS and Whatsapp reminder features.
Note: You can also add customers by allowing the app to access your contacts.
Benefits This is one of the Khatabook features that will help keep track of the entire customer along with their mobile numbers. When the customer in the contact makes payment you and the customer get a prompt. Automatically the account book gets updated with debit and credit details.
#2. Adding Transactions
What – This feature will let you include all transactions that happen with a customer. It will create an individual page to explain the transaction with date, the amount paid, or received with purpose.
How – Now that you have added the customer you can click on the customer name to add the transactions.
Click on Add first transaction icon
Below that choose whether You Gave or You Got
Enter the amount and click Save
Allow access to photos in your phone to include the bills if required
Likewise, keep on adding details that will get added to the customer page and you can see all details as shown in the image.
Benefits
Here it becomes easy to refer and understand the pending payment of each customer. Business owners can make the next move in their business such as sending reminders requesting payment, etc. The hassle of adding and deleting the entry when customer purchases and pays is now relieved with these Khatabook features.
#3. Add Multiple Khatabook
What – It is easy to have multiple account books using the same app and number.
How – First time when you install the app you get your first khatabook by default. That you can edit for entering your profile details.
Now click the drop-down present near your primary account
A new page pops up prompting to Create New Khatabook. Click on that
This will lead to another page where you must enter the Business name and click Get Started.
You can see the new name you entered for this Khatabook.
Move forward and add customers under this book.
Likewise, click the drop-down to add multiple accounts for different purposes.
Benefits
With this feature, you can manage multiple businesses with the same customer or different. No more worries about carrying different account books. All your business accounts are in your pocket with this one app.
Khatabook Features specific to Customer Name
When you click on a specific customer name the next page that opens will show all transaction details specific to that customer as shown above. From that, four things can be done to generate a report, request payment, send Whatsapp reminders, or SMS.
#4. Report - Download PDF
What – The report can be generated in a PDF format that can be printed or sent as an email.
How
● Click on Report
● All details will be listed with the net balance, click on Share to generate a PDF report
● After confirming the details click on Download to save the report on your computer.
Benefits
This is one of the Khatabook features which will help you to know the transaction details with each customer and also send the report to the customer for their reference. It is also useful for audit tax purposes. The all-cash transaction is now on papers making your business legal and thus you can get be benefitted from all government discounts and other schemes to grow the business.
#5. Payments
What – Here the payment that a customer needs to make can be requested
How
Click on the Payment icon
In the next page enter the amount you want to request for
Then request through UPI payment options
Click on Request money
Benefits
This feature is extremely useful as you have an option to choose the amount and request for money from the borrower. Also, the UPI payment option will let the recipient quickly make payment.
How to collect payments using Khatabook? (English) | Khatabook QR payment | Bahi Khata app
Watch how to collect payments via Khatabook by sending UPI payment links or using QR code
#6. WhatsApp and SMS Reminder
What – Report is generated and a request is also sent. This additional feature will allow the user to fix a reminder date and send it via Whatsapp or SMS.
How
Similar to requesting money at once here you can set timelines for payment.
Click on set date to choose the option between Next week, Next month, or specific date from the calendar
This will now reflect based on your selection as shown in the third screen in the above image.
Now click on the Whatsapp or SMS option to generate a link to send via the mode you prefer to.
The above image shows both options and yes you are done sending a reminder in just following a few
Benefits
Constant communication and reminders will make the borrower know the pending payment amount and will allow them to release the payment. It can be requested partly or the whole amount. These khatabook features can be used to set reminders on different dates and just need not bother about remembering it every time. Just update in the app and it will take care of the follow-up work till the payment is settled.
#7. Business Card
What – Irrespective of the nature of the business or size you can now have a business card. Take your business one step forward with this professional feature. Yes, you can now print your business name, mobile number, and services offered at absolutely no cost.
How
Khatabook app has a feature named Business card when you click on More in your first page
Click on Business card
Click on Edit and choose the card design (there are 11 different designs available)
Just slide the dots to find different designs
After finalizing the design enter your details and save to view your business card which is ready for sharing via Whatsapp, Email, or Download and print it.
Benefits
Holding a business card is considered a pride for every business owner. However small your business is, don't lose pride. Business card not only shows professionalism but also helps in expanding the business by sharing this with multiple people. Even your customers can easily refer your business to others sharing the card you shared with them.
#8. QR Code
What – Every business requires a QR code to allow customers who visit their shop to make a quick payment. This feature will generate a unique QR code for your business. These codes when scanned by the customer using their mobile phone camera, it opens a link for payment. When the payment amount is entered and confirmed from the linked bank account of the customer, money will be transferred to the shop's bank account.
How
Click on the QR code option found on the page when you click More from the first page
You will see a unique QR code generated for your business. Confirm that to allow that to be couriered to your shop.
On the next page, you will be prompted to fill the Business name, Mobile number (in general these two will be picked up from your mobile). Fill the pin code, once that is done you will see an option requesting to fill the state, city, address in detail with a landmark. Fill all the details and click Verify to confirm.
After confirmation of your address, you will get your QR code mailed to you at the address you mentioned.
Now, this is ready allowing customers to make payment scanning the code using their smartphone.
Benefits
Quick response (QR) code offers numerous benefits to small business owners. It allows the customer to pay money without carrying cash. The transfer is instantaneous and prevents any cash transaction like calculating and giving back changes. Further, there is no need to build any POS machines for accepting the payment. There is no need to use a swipe machine as well as customers need not remember any pin or carry their credit/debit cards. The transfer of data is encrypted and thus no bank details are exchanged making it a safe transaction. It is reliable and easy to generate and no mastery in technology is required.
Apply for free QR code with the Khatabook app following the simple instructions given above.
#9. Add Bank Account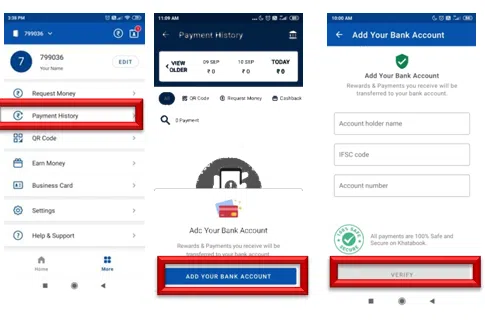 What – Bank account of every Khatabook app user can be linked to simply the money transfer process. It supports UPI payment and hence owners can now receive payment directly to their bank account.
How
Click on More option in the main page of the app
Select Payment history
You will be prompted to Add your bank account. Click on that.
Then enter your Bank account name, IFSC code, and Account number and click Verify
It is done and now sending and receiving payment can happen via the bank account you have chosen.
Benefits
Receiving payment and sending money from the bank account is easy as it does not involve direct cash transactions. All details are stored in the bank statement for easy reference, audit, and tax purposes. Further, when sending a reminder to customers they can also make payment at once when their bank account has linked the app. Both ways it is a simple, easy, and quick transaction.
#10. App Lock
What – Security concern is addressed with the APP lock feature. It is possible to lock your Khatabook with a dedicated App lock provided in the app. Your data is safe and secure.
How
Click on the drop-down option adjacent to the settings option
Find App lock and click on the same
Turn on the Khatabook pin using the toggle button
Enter the PIN (4 digit number). Do not enter your date of birth or other numbers which could be easily identified. Keep it simple but a combination that you can remember.
Benefits
Having said that, all your business accounts are entered in this book which you will carry in your pocket every time and to all places to move around, it is a must to double confirm the data security. Hence the app has provided a feature to lock this individually that is different from all other locks you use in your smartphone. Choose a 4 digit number smartly to safeguard your business finances.
#11. Khatabook Features Multiple Languages
What – The app can be used in 11 languages namely English, Hindi, Hindi+English (Hinglish), Gujarati, Tamil, Marathi, Telugu, Malayalam, Bangla.
How
Under the settings, you will find the Language option click on that
From the screen feel free to choose the language you wish to communicate with. In the above example, Hinglish is selected
The resulting screen will display all in the chosen language. You can see Home in English and More (Aur Adhik) in Hindi as the selected option is Hinglish.
Benefits
Small business means it could be a vegetable shop, grocery store, mobile recharge shop, milk service, and much more. All these businesses deal with people across the country. Not all are educated and still, it is a must to run the business. Keeping that in mind this app can be used in 11 different languages based on the convenience of the user.
#12. Earn Money
What – Yes, simply having this app will reward you with money. This is offered to you to appreciate your efforts in letting know others about this app.
How
Click on Earn money option under settings
Invite your friends
Every friend you invite when includes their first customer, you will be rewarded with Rs 10/-.
Benefits
This may not look a great benefit at the Prima facie. But imagine you invite your friends to your contact list, say 100 of them. When they add their first customer you get Rs 10/- which is INR 1000/- in this case.
#13. Help & Support
There is an option provided by the app to help you understand its features by clicking on How to Use. Also, you can connect via Chat, Call, or Whatsapp to reach out to the support professionals to resolve any of the clarifications you have regarding the app in managing your accounts.
Click on the drop-down option beside Help and Support to choose any of the help options.
#14. Delete Your Khata
Just in case you want to close the Khatabook to clear your transactions and start a new one, then you can quickly click on the Delete Khata option and close your account.
It is always possible to create or delete an account any time you wish to.
What More Khatabook Features are in the App?
Khatabook app is completely designed keeping small business owners in mind and helping them in getting paid from customers and managing their ledger book. This pocket-friendly app is easy to use and secure too. Park your financing calculation worry to the app and focus on growing your business.
New Khatabook features are getting added periodically based on the market scenario. Currently, there is a Quiz feature. By answering 3 questions you stand a chance to win INR 1000. What if you could not clear the quiz in the first attempt? Wait for 20 minutes only to answer 3 more questions to stand eligible for rewards.
Have fun, earn money, manage finances, and focus on your business sincerely with all the in-app Khatabook features.